Welcome to New Friend Friday! Before you link up, I wanted to share something with you. I really love it when I find business owners who are not out there just for themselves but who are also huge supporters of causes they believe in. If you've been around The Girl Creative for any length of time hopefully you've seen our sponsor ad for Cap Creations in the sidebar. They sell beautiful hand stamped sterling silver jewelry.
For every "Chosen" necklace that is sold, $10 will go to the adoption agency of a family who is needing help raising funds for their adoption. You can read about these families HERE.
Did you know that the average adoption costs $25,000 – $35,000 (before any tax credits)? That is a lot of money but as you know there is no price that compares to human life. How fortunate that there are birth mothers choosing life and adoption over other alternatives.
Another way you can help is just by shopping at Cap Creations. They will give %10 of every order towards a particular family's adoption agency just buy stating on your order the name of a family you would like to help. Again, info on those families can be found HERE.
Thank you SO much for taking the time out to read this. Please pass this information onto your readers if you led to do so. 🙂
****
The Girl Creative and The Trendy Treehouse have officially teamed up to co-host New Friend Fridays! Each week you will have the chance to add a link to your main blog to the ever growing list below. New Friend Fridays is a fun blog hop where it's all about making new bloggy friends and offering meaningful comment support to other bloggers. Whether you add your link to the list at The Girl Creative or The Trendy Treehouse it's all just one great big list.
Add a link to your

main blog

Visit the blog of the person whose name is

above

and

below

your name in the list and

leave a meaningful comment

on their blog.
Visit as many blogs as you can and

leave comments

telling them you are visiting from New Friend Fridays at The Girl Creative or The Trendy Treehouse.
There is

no obligation

and

no pressure

to follow everyone who follows you. Please just follow the blogs that are of interest to you. 🙂

Family Friendly Blogs ONLY please. Explicit sites will be removed.
If you have any questions or concerns about the rules, please click HERE to read a post that should clarify things a bit.
Grab a button, post it somewhere on your blog and get ready to make some new friends!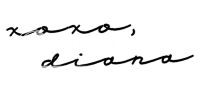 Due to the amount of content that is used without permission and proper credit, I am no longer allowing a full RSS feed. I value each and every reader so I hope you will click through and come visit!
XOXO
Diana
www.thegirlcreative.com