Pillow Case Dress………..Minus the Pillowcase

Tired of all the money I've been spending on clothes lately to get ready for our trip I decided to finally try to make a pillowcase dress for my girls. The only problem I had was that I didn't have a pillowcase to spare. Or one that was actually nice enough to make a dress out of. So, I improvised.
I had some fabric and ribbon kicking around so I decided to use that instead. I didn't really use a pattern but having received a pillowcase dress once before I knew the basic look of it and decided to just go for it.
At first I made it way too wide so I took it in and it looked a bit better. Then I didn't really like how the ribbon (straps) kept sliding all over the place so I grabbed some buttons I had picked up months ago from Hobby Lobby and added a nice little embellishment to the front and back of the dress sewing the ribbon in place.
I liked the dress so much better that way. Now I don't have to worry about the ribbons slipping out in the laundry or my girls taking them out because they are notorious for doing things like that. I let Gracie wear it to school when I picked Emilee up and got so many compliments on it. I only got around to making one but hope to bang out another one before we leave. The whole project only took me about an hour which was not too bad. 🙂
I will be linking up to these wonderful parties this week:
Raising Memories
Market Yourself Monday

Lucky Linky Tuesday
Take a Look Tuesday
Letting The Creative Juices Flow

A Little Craft Therapy
Penny Pinching Party
Sugar and Spice
Make It Yours Day
Creative Share


Strut Your Stuff
Frogs and Snails
Get Your Craft On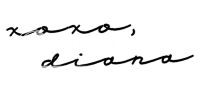 Due to the amount of content that is used without permission and proper credit, I am no longer allowing a full RSS feed. I value each and every reader so I hope you will click through and come visit!
XOXO
Diana
www.thegirlcreative.com