Creative Chick Parade Day TWO: Sew What Sharefest

Welcome to Day TWO of the Creative Chick Parade! Yesterday we had a successful day of linking Mod Podge related projects. Today, we are going to be linking up to SEWING projects ONLY! Hate to be the linky party police but please don't link up to anything that is not SEWING related. We had a few little rebels yesterday (wink wink) so hopefully today will go a bit smoother. 🙂
A bunch of the other wonderful co-hosts of the Creative Chick Parade are hosting some pretty cool giveaways this week so be sure to check them out:
There is no limit to how many projects each person can share so let the linking begin!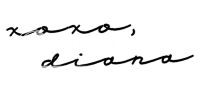 Due to the amount of content that is used without permission and proper credit, I am no longer allowing a full RSS feed. I value each and every reader so I hope you will click through and come visit!
XOXO
Diana
www.thegirlcreative.com