Creative Chick Parade Day ONE: Mod Podge Mayhem

Well, it's finally here! Are you ready for a wonderful week of projects and giveaways? Welcome to Day ONE of the Creative Chick Parade: MOD PODGE MAYHEM!
Add a link below to any project that you made with Mod Podge. Today is not the day to add your sewing projects or recipes (that will come soon enough this week) so be sure to only link up to your Mod Podge projects.
A bunch of the other wonderful co-hosts of the Creative Chick Parade are hosting some pretty cool giveaways this week so be sure to check them out:
There's NO limit to how many Mod Podge Projects you can link up to so have fun!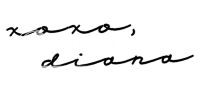 Due to the amount of content that is used without permission and proper credit, I am no longer allowing a full RSS feed. I value each and every reader so I hope you will click through and come visit!
XOXO
Diana
www.thegirlcreative.com