New Friend Friday……..But it's Wednesday?? And A Little Blog Etiquette
It was brought to my attention that there is possibly some confusion over the "rules" or the intent of the New Friend Friday (not to be confused with Follow Friday or Follow Me Friday) blog hop. It's really not about following or gaining followers. It's more about blog and comment support.
I thought the rules were pretty simple but maybe I should simplify it a bit more:
Add a link to your

main blog –

Hopefully self-explanatory



Visit the blog of the person whose name is

above

and

below

your name in the list and

comment

on their blog. – When I say "comment" I really mean leave a

meaningful comment

– not just "visiting from NFF, please follow me". As per

blogging etiquette

, it's always

good practice

to leave a comment that lets the blogger know you actually spent time on their blog and read their current post (at least their current post) or some of their other posts.
Visit as many blogs as you can and

leave comments

telling them you are visiting from New Friend Friday at The Girl Creative. –

Again, leave

meaningful comments

but be sure to tell them where you are visiting from also. If you don't have time on a given Friday to leave decent comments, come back to those blogs when you do have the time. But be sure to at least come back to the person above and below you on the link list though to keep things cool.

There is

no obligation

to follow everyone who follows you. Please just follow the blogs that are of interest to you. 🙂 –

Okay, this is a big one. This party is NOT about following everyone who follows you. That is one of the main reasons why this blog hop does NOT have the word "FOLLOW" in the name. I'd much rather have 200 relevant followers who are actually interested in what I blog about and who actually read my blog then 1400 "followers" who just followed me back.

Ooooh,

and another great tip about following……….some people don't use Google Reader or even really check in their dashboard other than to post to their own blog so some people may have your blog listed in their blog roll/list rather than actually follow you.

IF

you add someone to your blog list, it's a great idea to let them know. I know it still makes me all giddy when I see my blog on someone's list. 🙂
Family friendly blogs only. Blogs of elicit content will be removed. –

Hopefully self- explanatory. If you are not sure, send me an email and I'll let you know. 🙂
I know this post is coming a few days before this week's New Friend Friday party but I know that come Friday people get anxious to get their blog on the list that they forget to even read the post.
And one last thing: I hope this post does not sound like I'm professing to be the perfect blogger or don't need to brush up on my own blog etiquette because I totally do. But, this week some things came to my attention and I wanted to address these questions or issues just in case anyone else was confused about the intent of New Friend Friday or the rules.
Thanks to everyone who participates. You guys are great. 🙂
**I should add that we have joined forces with The Trendy Treehouse on Fridays and although their blog hop is called "Follow Me Friday" their intent is to only follow blogs you love as well. 🙂 Tara, the owner of Trendy Treehouse, have spoken in the past and we both want our blog hops to be friendly with no pressure of following everyone who follows you. They are both great ways to find blogs that you may not otherwise find. And if you gain followers, that's a bonus! 🙂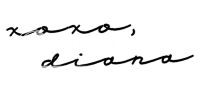 Due to the amount of content that is used without permission and proper credit, I am no longer allowing a full RSS feed. I value each and every reader so I hope you will click through and come visit!
XOXO
Diana
www.thegirlcreative.com