After a brief hiatus from blog design, I wanted to let you know that the wait list is wide open. I will be taking on a few new customers over the next month or two before the baby arrives in April. If you are interested in a custom blog design, please send an email to thegirlcreative@gmail.com with "Blog Design" in the subject.
Hope everyone is having an amazing weekend! We have been hanging around doing N.O.T.H.I.N.G. and it's been great!!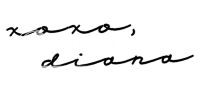 Due to the amount of content that is used without permission and proper credit, I am no longer allowing a full RSS feed. I value each and every reader so I hope you will click through and come visit!
XOXO
Diana
www.thegirlcreative.com