Hello friends! I hope everyone is doing well. How are my east coast readers? Anyone affected by Hurricane Sandy? We lost power for about 14 hours which was nothing compared to what others are dealing with.

Let's remember to pray for all those who lost homes and loved ones and let's remember to be thankful when we feel like complaining. 
I'm changing Just Something I Whipped Up a teeny, tiny bit. I'm adding a few guidelines and you can do with them what you will. 🙂 
Also, I'd love to encourage some interaction with you guys so at the end of each post, I will be asking a question and you can leave your answer in the comments!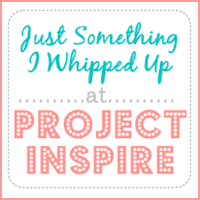 Question of the week: 
What is one goal you have for this week? 
Mine is to stay on program (Weight Watchers) and to journal everything I eat. I've been struggling the last month or so and I really need to re-focus. 
HAVE A BLESSED WEEK!!!
Due to the amount of content that is used without permission and proper credit, I am no longer allowing a full RSS feed. I value each and every reader so I hope you will click through and come visit!
XOXO
Diana
www.thegirlcreative.com