The Pinterest Exchange – TAKE TWO!
Pinterest is THE latest craze it seems, right? It's so darn addicting that we can't help but spend crazy hours pouring over the content pinned by others. It has been my #1 "Go-To" site for inspiration. From recipes to home decor to party planning to hair styles….you name it. Love, love, LOVE!
With all that said, I bring you:
Each Wednesday you can come here and share YOUR FAVORITE PINTEREST BOARDS with others.
This is

NOT

a party to share

project links from your blog

.
:::::::This is for PINTEREST BOARDS ONLY:::::::
You do NOT need to have a blog to join. You just need to be a Pinner. 🙂
When you link up, here is what your link should look like:
When it's time to add an image, just choose your favorite from the board you are linking up. That's it!
If you wouldn't mind grabbing a button and posting it on your blog, I would appreciate it. If you could also share this post via Facbook and Twitter, I'll be your best friend! (wink wink)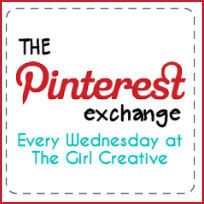 Due to the amount of content that is used without permission and proper credit, I am no longer allowing a full RSS feed. I value each and every reader so I hope you will click through and come visit!
XOXO
Diana
www.thegirlcreative.com