New Friend Friday {November Edition}
Hello Friends!! Boy have I missed you!!! I hope everyone is ready to link up and to make new bloggy friends. 🙂
Before we get started I have a few things I wanted to share for some of the bloggy friends that I have made over the last year. And since it's New Friend Friday I thought today would be the perfect day to give them a shout out!
My fabulous sponsor Cathy from Cap Creations is hosting an amazing event from November 1 – November 30 called Christmas Giving.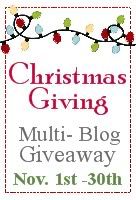 Here's what you need to know to get involved:
1. At any time during November, post your giveaway on your blog. This is your giveaway so include your own rules for entering. (how to enter, where you will ship and so on)
2. In your giveaway post, include a link back to this post so everyone knows that there are other giveaways to be entered. Feel free to use the giveaway button above, the more people that know about this event the better!
3. Come back and add your link to the giveaway list! Giveaways added without following step #2 above will be deleted. Sorry!
4. Announce the winner of your giveaway on your blog on November 30th and get it shipped out to arrive by Christmas. Please do not end your giveaway before the 30th.
Finally this giveaway should be something you feel represents Christmas or something you feel would make an excellent Christmas gift! It could be something you make or if you don't make anything you could go out and get a little something together! Anything is fine! It is about giving after all!
Next, my bud Rachelle from Fingerprints on the Fridge is a finalist in the True Value Design SOS Contest for her basement that needs some major help. Sheesh, I wish I had known about this contest because I could have entered like half my house in this. lol But since I didn't I want the next best thing, one of my friends to win it. So…………be a lamb, click HERE and vote for Rachelle. 🙂
Okay, let's get to our New Friend Friday party! To refresh your memory, the rules are simple:
Add a link to your main blog homepage not a specific blog post.
Visit the blog before and after you in the link list and LEAVE A COMMENT.
If you find a blog that you love, feel free to follow although following is not an obligation. No need to follow everyone who follows you. That's not what this is about.
Visit as many blogs as you can and make some new friends.
Don't forget to grab our snazzy new button. 🙂 Have a great weekend everyone!!!!
Due to the amount of content that is used without permission and proper credit, I am no longer allowing a full RSS feed. I value each and every reader so I hope you will click through and come visit!
XOXO
Diana
www.thegirlcreative.com