Just Something I Whipped Up
Hi hi HI! Anyone used to watch the show What's Happening? If you did, you'll "get" my greeting. 🙂
Hope everyone had a great weekend. I can finally say that with just 2+ weeks left before school starts, things are starting to wind down around here. This summer has been soooo busy. So many things going on in our lives and I'm ready to relax and kick back for the next few weeks before we are back to early morning routines of getting the girls off to school. Emilee will be in first grade this year and Grace will be in 3 day preschool (well 3 morning). I'm sort of looking forward to having some time to myself.
Anyhow, we had a great week last week for our Just Something I Whipped Up linky party. We had 354 participants and so many great projects. Here are a few of my faves:
Love these fondant cakes
by
I Design
by
MacKenzie's Crafty Mom
by Blackberry Vine
Have to throw in some sewing projects for good measure
Reversible Tote by
Cook Clean Craft

Elephant Pin Cushion by Team Awesome

Daphne Dress by Girl.Inspired
Okay, seriously there are sooooooo many great projects! I could spend all.night.long. on this stuff! Such talent! I wish I had the time to feature everyone. I know it sounds soooo cliche but it's true.
A great way to get your projects featured is by submitting them to me and when we are having one of our off days (as in no special events going on or projects to post) I can pop them up on our blog for all to see. Just send a photo and a link to your post to thegirlcreative(at)gmail(dot)com.
Let the linking begin! Here's the scoop:
Please only link up a project that is new to this party. Repeat submissions will be deleted.

** Your post does not need to be new but it must be something that you have not linked up to this party before on a previous week.

If you could grab a party button and pop it up on your blog someplace visible, that would be awesome. 🙂
Please do NOT link up giveaways, Etsy shops or websites.
Sewing, Mod Podge, Recipes, Room Re-do's, Furniture Revamps, Knitting, Organizational Tips, etc. are welcome.
Remember that fuzzy feeling you get when you see comments on your post? Make someone's day by commenting on their blog post. 🙂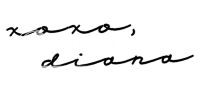 Due to the amount of content that is used without permission and proper credit, I am no longer allowing a full RSS feed. I value each and every reader so I hope you will click through and come visit!
XOXO
Diana
www.thegirlcreative.com