Just Something I Whipped Up
It's a miracle. There is silence in my house. My husband and girls are at church practicing for our Easter Production, Kole is napping and I am finally, FINALLY getting the chance to sit down and blog. For the last 2 weeks I've been dealing with sick kids. Stomach viruses and ear infections and I think I am finally seeing some light at the end of this tunnel. I was also helping co-chair an event at my girls' school and that is finally done. I can breathe. And now I can blog. 🙂
I've recently teamed up with Mindy Mae's Market and I'm going to be showing you some cool projects that you can make from the supplies they offer on their daily deals site. More on that this week!
Last week was so much fun sharing our first kiss stories. I loved reading all of the comments and smiling and nodding to the ones that I could relate to. 🙂 Speaking of "love", anyone doing the Love Language Challenge? I've read the book and it's so great so I think the challenge will be fun. I hope to get started on that soon.
So, let's get this party started a bit early, shall we?
Add a link to what you've been working on this week.

No

Pinterest

Round-ups please. I want to see what YOU have done.

Grab a button and post it somewhere on your blog so that other can join the fun.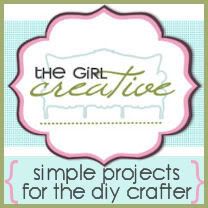 OHHH, one more quick thing: the linky list this week is going to be sorted from newest to oldest. I thought I'd change it up a bit!
……………HAVE A GREAT WEEK……………
Due to the amount of content that is used without permission and proper credit, I am no longer allowing a full RSS feed. I value each and every reader so I hope you will click through and come visit!
XOXO
Diana
www.thegirlcreative.com