Just Something I Whipped Up & A Bloggy Birthday

Well, a year ago today, I wrote my first post here at The Girl Creative. While I had a goal to reach 2000 followers by our first birthday, I'm not in the least bit put off that we didn't make it. I have to admit, in the beginning I had hoped that this blog would grow. And it did. And at first I was kind of smitten with the idea of oodles and oodles of followers. Then as time wore on I realized that it's really not the number of followers you have but more the quality of followers. I can have 3000 followers and only have half of them interested in what I actually blog about. Ummm, no thanks! I'll choose quality over quantity any day of the week!! So, thank you to everyone who comes by everyday and supports my crazy endeavors! It's been such a fun year!!!
Add a link to a specific post not your blog homepage.
Can be anything you've been working on from recipes, to sewing, to mod podge, to a before and after, to a room re-do, to………..well you get the idea. 🙂
It would be really cool if you could grab a button and add it to your blog somewhere, I'm not picky.
Show us what you got. 🙂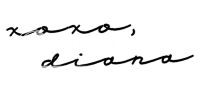 Due to the amount of content that is used without permission and proper credit, I am no longer allowing a full RSS feed. I value each and every reader so I hope you will click through and come visit!
XOXO
Diana
www.thegirlcreative.com