Just Something I Whipped Up with Girl.Inspired
I'm excited to have Stef from 
Girl.Inspired
over here to help host Just Something I Whipped Up and also to share a new project with you. She is super talented and I discovered her blog (or did she discover mine??? Who cares, we "met" and she's awesome) last year sometime and she quickly became one of my favorites. Thanks, Stef, for bringing something new to The Girl Creative!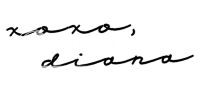 It is such an honor to guest post here at The Girl Creative! 
Today, I thought we could do a really quick project to add some fun and cuteness to your next party!  Let's call these straw flare.  I'm sure there's a more technical term, but I like flare.  And I like this project because it's really fast, it's inexpensive, and who doesn't love a special little straw in their cup?  
You'll need just a few supplies:  heavy cardstock, a craft knife of some sort (I love
this
little one from Fiskars),   paper straws, and a die cut/punch/shape maker (I used Cricut).
Okay!  Let's get started.  First, cut or punch your shapes from your cardstock.  I like using a variety of coordinating papers to add dimension and color to the project.  You could even cut a variety of coordinating shapes.  Hold your cut-out up to the straw to make sure that the size looks proportionate.  When you have all of your cut-outs, lay them out on a self-healing surface or a thick sheet of cardboard.  Using your craft knife, cut two parallel slits horizontally in your cut-out.  Weave a straw through the cut portion so the majority of the straw is behind the cut-out.
 Arrange assembled straws in an upright container and display near the cups and drinks.  That is it! 
Wasn't that simple? 
For more straw flare inspiration, you can visit me over at
girl. Inspired.
where I'll show you a cute girly version and another way to display the straws!
Thanks for having me over, Diana!
Grab a button, pop it up on your blog somewhere and add a link to a project you've been working on that you want to share!
Due to the amount of content that is used without permission and proper credit, I am no longer allowing a full RSS feed. I value each and every reader so I hope you will click through and come visit!
XOXO
Diana
www.thegirlcreative.com