Just Something I Whipped Up (A Day Early…. and Rant ;)
As I sit here typing this little post it's raining out and I have a mudslide in my backyard that went right into my pool. Our water that was once nice and clear is now muddy. We leave for vacation early Thursday morning and I have a TON of stuff to do to get ready and I SO do not need this right now. Ugh!
We just raked out 5 yards of top soil and planted grass seed yesterday and now there are rivets and puddles all over our backyard. This backyard has been such a thorn in my side. When we bought our house 7 years ago we knew our pool needed fixing. We had some pool people look at it and told us that all it needed was a new liner. Great. We spent a small fortune, put a new liner in it only to find out that we were losing water and we couldn't vacuum it. All 3 lines underground were leaking. Fast forward to last year (after spending a bunch of summers without a pool) we get all the pipe replaced and installed a safety fence. Then we couldn't get the pool clear. We shocked the heck out of the pool only to realize that there was so much leaves, junk, debri at the bottom that you couldn't even see it. After days going up and down the hill(the filter/pump is at the bottom of our hill) emptying the filter basket, scooping out junk from the bottom of the pool there seems to be a light at the end of the tunnel. A clear pool finally!
In the meantime our patio was falling apart (there were pieces missing, the kids were playing in the dirt) and our roof over the patio was falling apart. This year we decide to rip the roof down, rip up the patio and plant grass instead. That brings us to Saturday where we spent from like 8:30am to 3pm raking out dirt, picking up rocks, seeding, mulching, etc. And now here it is, Sunday, and we got a ton of rain so now our backyard has turned into a mudslide and it all wound up in our pool. Sigh. My poor husband is out there now trying to prevent any more damage from happening.
When it rains it pours huh? So, I sure need some cheering up so that's why I'm posting our Just Something I Whipped Up party post a day early. I need some projects to keep my mind off the mess in our backyard.
If you are new to The Girl Creative, let me explain how THIS linky party works:
Add a link below to a specific blog post not your main blog address
If you could grab a party button and pop it up on your blog someplace visible, that would be awesome. 🙂
Please do NOT link up giveaways, Etsy shops or websites.
Sewing, Mod Podge, Recipes, Room Re-do's, Furniture Revamps, Knitting, Organizational Tips, etc. are welcome.
Remember that fuzzy feeling you get when you see comments on your post? Make someone's day by commenting on their blog post. 🙂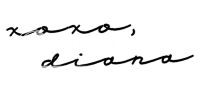 Due to the amount of content that is used without permission and proper credit, I am no longer allowing a full RSS feed. I value each and every reader so I hope you will click through and come visit!
XOXO
Diana
www.thegirlcreative.com