The Girl Creative Eats, An Announcment and Some other fun stuff!
So, Mr. GC and I have been working on a budget and with that comes creating menu's for 2 weeks so that I only have to go food shopping 2x a month. Usually this is not too hard for me because I'm a creature of habit and I make the same meals. Over. And over. And over again. Well, in an effort to try and change things up a bit, I've created a dinner menu for 2 weeks. Then I created a shopping list to make sure I get all the necessary ingredients and to also make sure that I stick to my list.
Included on my menu is 2 new recipes that I'll be trying out so I'm going to share my menu with you and then share links to the new recipes I'll be trying out.
I would also love (and welcome) any feedback regarding what your family favorites are.
Mr. GC gets paid every other Wednesday so my menus will run from Wednesday to Wednesday (and Wednesday is always pizza night because we have church and need a quick and easy meal).
Wednesday
– Pizza
Thursday
– Beef Stroganoff in the slow cooker (recipe)
Friday
– Burgers, Hot Dogs and Chips
Saturday
– Chicken Cutlets, Mixed Vegetables and Scalloped Potatoes
Sunday
– Sandwiches
Monday
– Spaghetti, Meatballs and Dinner Rolls
Tuesday
– Chicken and Red Potatoes, Vegetables
Wednesday
– Pizza
Thursday
– Tacos
Friday
– Ranch Beef and Noodle Skillet (recipe)
Saturday
– Chicken Francaise, Rice and Vegetables (recipe)
Sunday
– Beef Brisket
(recipe)
I'm SO excited about making this!
Monday
– HELP!!! I don't know!
Tuesday
– Same as above – what should I make?????
OOOh, by the way………….I have some really exciting news for you! In a few weeks The Girl Creative will be co-hosting our first ever………..
This is going to be the blog hop of all blog hops. 5 days of themed linky parties. And when I say co-hosting, I mean we will have the likes of some wonderfully, talented bloggers teaming up with us. I'm just waiting on confirmation from a few more bloggers and then I will announce the dates and the co-hosts. 🙂
We are also looking for some businesses to sponsor giveaways during parade week. If you have an Etsy store, website or any other business that you think would be a good fit for this blog and want to sponsor a giveaway during parade week, please send me an email. 🙂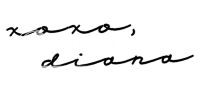 Due to the amount of content that is used without permission and proper credit, I am no longer allowing a full RSS feed. I value each and every reader so I hope you will click through and come visit!
XOXO
Diana
www.thegirlcreative.com