During my first year of blogging I hosted an event called Creating Christmas. It was a week worth of linky parties focusing on a different "Christmas Theme" each day. Well, I'm reinventing it and I'm super excited. Almost this excited:
I LOVE that movie!!!! I can seriously watch it over and over again and laugh myself silly each time!
December 4 through December 10
Creating Christmas Blog Event
During that week we will feature projects from some of our favorite bloggers and some new Christmas projects by ME! Ohhhhh yeah!!! I'm going to get my Christmas craft on! At the end of the week we are going to wrap it up with a very "special" linky party!
Here is where the "DARE" comes in!
Unless you live in a hole somewhere or under a rock, you are very acquainted with
Pinterest
! Some of us go PIN CRAZY!! And it's very easy to do!
This is my dare to you:
I want YOU to create something Christmas-y. Use Pinterest if you must for some inspiration but try but do a project yourself. 

Dig out that box of craft supplies

.

Dust off your sewing machine

.

Power

up the power tools

!

Try to create something that others would find "Pin Worthy". Blog about it and add your link to our "Don't Just Pin, CREATE!" party. Sound good??
If you would like to join in and CO-HOST this event with us, WE'D LOVE TO HAVE YOU! Grab the button and blog about the event. Please include a link back to this very post so that everyone is on the same page! During the same week you will host the same party at your blog. You don't necessarily have to have guest posts. If you want to create and blog all week long, HAVE AT IT! On the last day, I will send you the Linky Party code and you can pop it up on your blog so that your readers can link up right from your blog and it will be one huge master list. And the links MUST BE CHRISTMAS PROJECTS that they created this year.
I'm excited. Are you excited? If you need any more information or if you need me to clarify anything just shoot me an email. 🙂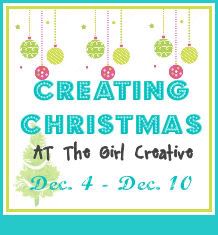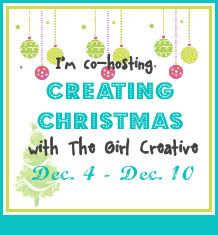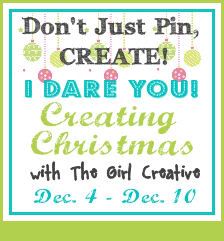 Due to the amount of content that is used without permission and proper credit, I am no longer allowing a full RSS feed. I value each and every reader so I hope you will click through and come visit!
XOXO
Diana
www.thegirlcreative.com