Hey TGC readers! Who is ready for Fall? For those of you new around here, I'm Ellora from over at Creatively Southern and I'm addicted to Fall. Best season ever.
It seems everywhere I look on Pinterest I see burlap fall wreaths! They are THE THING these days, so naturally I had to make one of my very own. Today, I'm going to show how easy it is to make these burlap wreaths. Get ready for lots of pics!
To make this burlap wreath, I used a 20″ wire wreath form, 2 rolls of burlap ribbon (even though there's only one shown in the picture), 1 roll of chevron burlap wired ribbon, floral wire, and some wreath filler flowers. All of these came from Hobby Lobby. Don't forget your 40% off coupon!

Start by attaching one end of the burlap ribbon to the back of the wire frame with floral wire. Then begin weaving the ribbon in and out of the frame, alternating between in the inside of the frame and the outside. I pushed the ribbon through the frame from the back and pulled through just enough to make a loop and to fluff it. Yes, fluff. 🙂
That was clear as mud, right? So here is another picture to help illustrate. 😉 Try to keep your loops about the same size all the way around the wreath. Keep weaving the ribbon until you have covered the frame. Attach the other end to the frame with floral wire. Since I used two rolls of ribbon I attached the two ends together at the wreath with floral wire also.
I'll let you in on a secret here… this was my first time making one of these. It took me a little while to figure out the whole weave-n-fluff thing, so don't get discouraged. Play around with it and study the pictures…ask questions if you need help. Once I got it, it was like a light bulb just went off and burlap was flying everywhere!! (By the way, this stuff can be a little messy.)
So when you are done doing your weaving and fluffing, you should have something like this: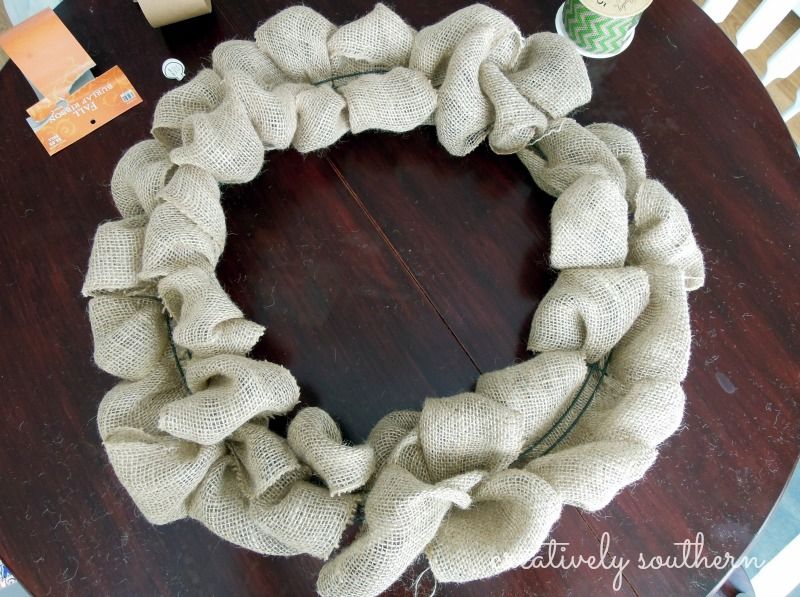 Doesn't look like much just yet, but hang with me here…
Next, I added some gahhhh-geous chevron ribbon. This time I weaved it in and out of the middle of the wire frame. See all that green frame wire? Yeah, we want to cover that up.
Weave, fluff, and repeat.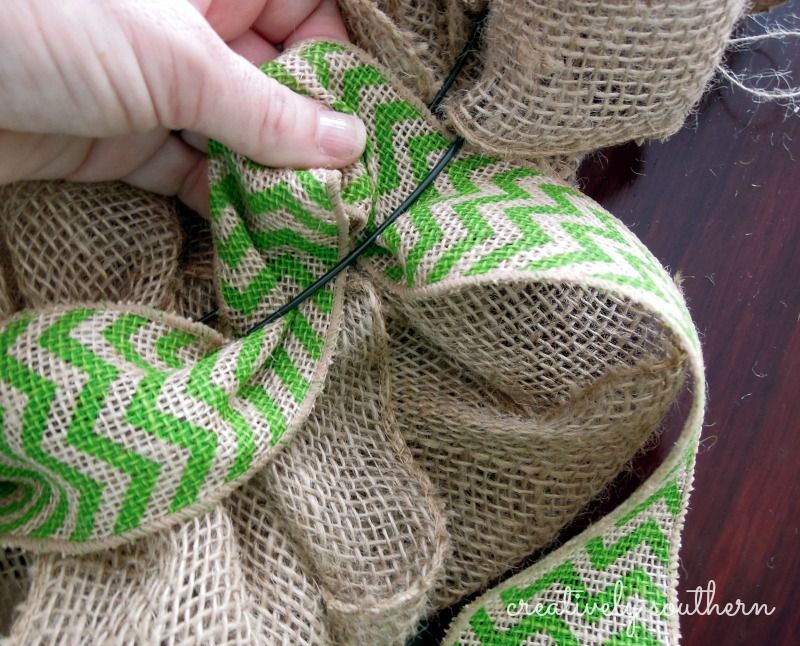 So, if I held my mouth right and all the stars aligned, I ended up with something like this. 🙂 Just kidding! Again, it's not too hard once you get the hang of it.
Needless to say, I had some additional fluffing and adjustments to do here if this was going to be anywhere near front door worthy.
I made some tucks and fluffs here and there, and added a nice burlap flower and fall berry stems. (3 of them to be exact.) Oh and pay no attention to those price tags. I'm a sale price only kinda gal. 😉
And finally, this burlap wreath took shape and has made it's way to the front door!
If you're into the whole monogram letter, you could add that easily with just a little craft glue. I decided to leave this one simple since we have painted numbers numbers on our front door already. You can read more about that here.
I do recommend that if you hang this wreath outdoors, that it is in a covered area only to protect it from the weather. You don't want to come home to a big mess of soggy burlap hanging from your pretty front door do ya? Yeah, me neither.
Projects like this is why I love toddler naptime. And did I mention that Fall is my favorite season?? Seriously, I have an entire Pinterest board dedicated to it. Hope you enjoyed this little tutorial and if you have questions, ask away! I hope you'll take a moment and visit me and all my shenanigans over at Creatively Southern. Hey, if you love reading Diana's blog, then we already have something good in common! 😉
Let's be friends! Like Creatively Southern on Facebook.
Let's Pin something! Follow me on Pinterest
Let's Tweet! Follow me on Twitter.
Me in real life… Follow me on Instagram