Blog Swap with Fingerprints on the Fridge
Hi lovelies! I'm Rachelle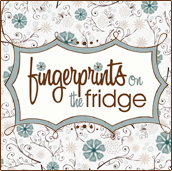 Today I'm swappin' with Miss Diana, she graciously let me come over and wreck up her blog. Isn't that sweet!? 😉
If you're not familiar with me let me introduce myself.
I'm a Mom & Wife with an obsession with decorating, crafting, style and these girls:
Sure they look sweet & innocent, but usually they're running around crazy lookin' like this,
When we aren't rockin' out I can be found somewhere around the house simply fluffing things like:
Sometimes I'm adventurous and want to dive into something a little tougher than fluffing. Just this year the Husband and I recently
gutted our kitchen & dining room.
Quite a change eh?
I'd love for you to come over and say hello sometime! Or, come over and Feature Yourself on Fridays for my newest Linky party! Can't wait to meet some new faces!
Thank you so much Diana for letting me crash today! You're the sweetest!
Due to the amount of content that is used without permission and proper credit, I am no longer allowing a full RSS feed. I value each and every reader so I hope you will click through and come visit!
XOXO
Diana
www.thegirlcreative.com