Birthday Goody Bag Update
This weekend is my daughter's 4th birthday party (she turns 4 tomorrow) and I finally settled on a goody bag. I want to thank everyone who participated in my Goody Bag link up party a few weeks ago. If you missed it, see the post HERE and check it out. So many great birthday party and goody bag ideas.
I have all the goods but still need to put them together but here's what it's basically going to look like:
Beach bucket and shovel to hold all of the goodies ($1 each at The Christmas Tree Shops)
Bubbles with pretty scrapbook paper (idea from A Few of My Favorite Things)
A S'mores Kit (idea from Random Thoughts of a Supermom)
Sidewalk Chalk in bundles of 3 dressed up with scrapbook paper
Princess Accessories for the girls
Whistles, army men and cushy balls for the boys
Candy
Once I have them all put together you can be sure I will be taking pictures and posting. 🙂
Until then……….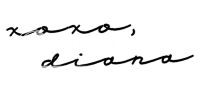 Due to the amount of content that is used without permission and proper credit, I am no longer allowing a full RSS feed. I value each and every reader so I hope you will click through and come visit!
XOXO
Diana
www.thegirlcreative.com