Every now and then I get a request for a trade in exchange of Ad Space or Blog Design. I've never been opposed to it if it's something I could really use but always felt a bit awkward if it's something that I really didn't have a need for. I don't like to hurt anyone's feelings. My house is really small and like every year we rent a dumpster and de-clutter, de-junk, whatever you want to call it so if I brought home any unnecessary things it just would not be good for my marriage and for my sanity (wink wink, grin). I get very ummmm, what's the word……..harried maybe? Who knows. Anyhow, I get very flustered (yeah, that's a better word) when my house is in an uproar and I have nowhere to put these extra "things".
But……..I was thinking. Dangerous. I know! There are definitely a few things I really could use so I would like to make this offer: I will trade Ad Space or Blog Design for the following things that I could really use:
Brown Minky Dot Fabric (by the yard or half yard)
Any other Minky Fabric by the yard, half yard or fat quarter
Designer Fabrics like Michael Miller, Amy Butler, Heather Bailey, etc. by the yard, half yard or fat quarter
Zippers
Pillow Stuffing
Ric Rac
Ribbon
I think that's about it. I know this may sound crazy but the Bible says you have not because you ask not so figured I'd throw that out there. 🙂
If anyone has any of these things that they are willing to part with in exchange for advertising or Blog Design ( I even do Etsy banners), please send an email to thegirlcreative(at)gmail(dot)com.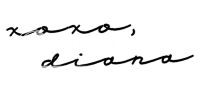 Due to the amount of content that is used without permission and proper credit, I am no longer allowing a full RSS feed. I value each and every reader so I hope you will click through and come visit!
XOXO
Diana
www.thegirlcreative.com