Homemade detergent can be found internet-wide, I know.  Still, I'm the first to try it in my entire family I'm aware of.  So, it's certainly worth another rewrite.  I don't know when we stopped doing these things ourselves.  Maybe when automatic washers came out and we needed 'special' soap for them to run properly?  No doubt it's a fabulous market especially if you're the type to get hooked on a scent.  You know, laundry wouldn't be the same for you without that smell.  Don't deny it, you know who you are.  (smile)  I can write it because I felt the same way. But, I realized something.
If you're using the proper amount of detergent for a laundry cycle – the soap should wash out.  When clothes are truly clean… very minimal scent, if any, is left behind.  And did you know; using more detergent so a scent remains means it hasn't all rinsed from your clothing?  Old detergent sitting in your clothing will break the fibers down much faster and cause your clothing to look worn and older rapidly.  So, may I suggest letting the detergent scent go and leaving that job for the liquid and dry softeners?  Just a suggestion.  (smile)  I tried it – and I'm glad.
Now, there are several other powder detergent combinations to try.  For now, I use one (1) bar of Fels Naptha, one (1) cup of Borax and one (1) cup of washing soda.  This works great for us.  You'll get five or more batches out of each box, one batch per bar of soap.  It has stood the test of potty training accidents, large dog stench, tomato sauce and formula stains.  I use Shout pre-spot gel on stains that have dried.  Everything comes out – even small amounts of blood.  That said, up to a half cup each,  baking soda and Oxy-Clean (or a generic relative) can be mixed into this recipe as well.  Maybe you've got several boys in your home and feel you need it so, the options are there.
This mix goes together very easily.  I find the bar soap mixes in better with gentle pressure while grating in the food processor.  It will look like finely shredded cheddar as opposed to thick.  Once I've shredded the bar soap, I work in the regular processor blade, add the other ingredients and blend it all for about twenty seconds.  I use a tablespoon per medium load, a heaping for large loads and two tablespoons for a super load.  The scent is pretty much gone when it's over… but it's enough.  If you peek while it's washing there's some bubbles too so, there's visual assurance it's working.  Other bar soap options include gentler Castille and Ivory bars or something similar. This recipe is also safe for the new fancy washers.
It's doubtful I'll ever abandon my Downy liquid softener or Snuggle dryer sheets.  I love them.  But, I parted with Tide, Gain and liquid All.  And the money I've saved with the amount of wash I go through.  It's now a special splurge in the budget – what I would have spent on detergent –  like a better cut of meat comes home instead!  And who wouldn't rather eat what they've spent for than wash it away?  Give it a try.  If you hate it, you'll have wasted eight dollars or less.


@ The Heartland

I'm linking up to Home Stories AtoZ, Reasons to Skip the Housework and Sugarbee Crafts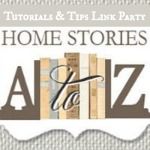 Due to the amount of content that is used without permission and proper credit, I am no longer allowing a full RSS feed. I value each and every reader so I hope you will click through and come visit!
XOXO
Diana
www.thegirlcreative.com